ReCheck is one of the companies behind the development of a material circularity passport – a project led by Arup. Together with other participants, ReCheck is taking part in shaping the material circularity passport, which will collect and validate information about raw materials used in a building. To guarantee the integrity of all historical data on circular materials, ReCheck developed a blockchain layer to the platform, where records of all transactions will be stored in an immutable and transparent environment.
The Use Case Owner
Arup is a professional services company with a great focus on the built environment. The company has deep expertise in strategy, design, planning, and engineering, and a portfolio with a great variety of projects, including governmental programs. Arup has more than 15,000 specialists who work across more than ninety domains, with projects in over 140 countries.
The Building Material Passport
Just as a common passport provides personal information of someone's identity, the equivalent material circularity passport would provide details about the materials specifications and especially the circularity aspects. Such data records will make it much easier to recover and recycle valuable materials at the end of the building's lifecycle. That way those materials will be spared from turning into waste during the demolition or renovation phase of a building. Since records about the material passports are anchored in public blockchain networks, the long-term preservation of details about the characteristics of materials and circularity guidelines will be protected.
Benefits of the Building Material Passport
The building has a 'digital twin' that comprises all building materials, including their quality.
A building material passport provides every material an identity that can be used in different ways.
Waste is reduced.
The sourcing of new raw materials is decreased.
Problems associated with the toxicity of materials can be resolved much easier (event prevented).
Incentivize supply chains to produce sustainable and circular construction materials and products.
Helps real estate and urban developers to select more sustainable and circular building materials.
Promotes reverse logistics and the recovery and re-use of products and materials.
Developing the Material Circularity Passport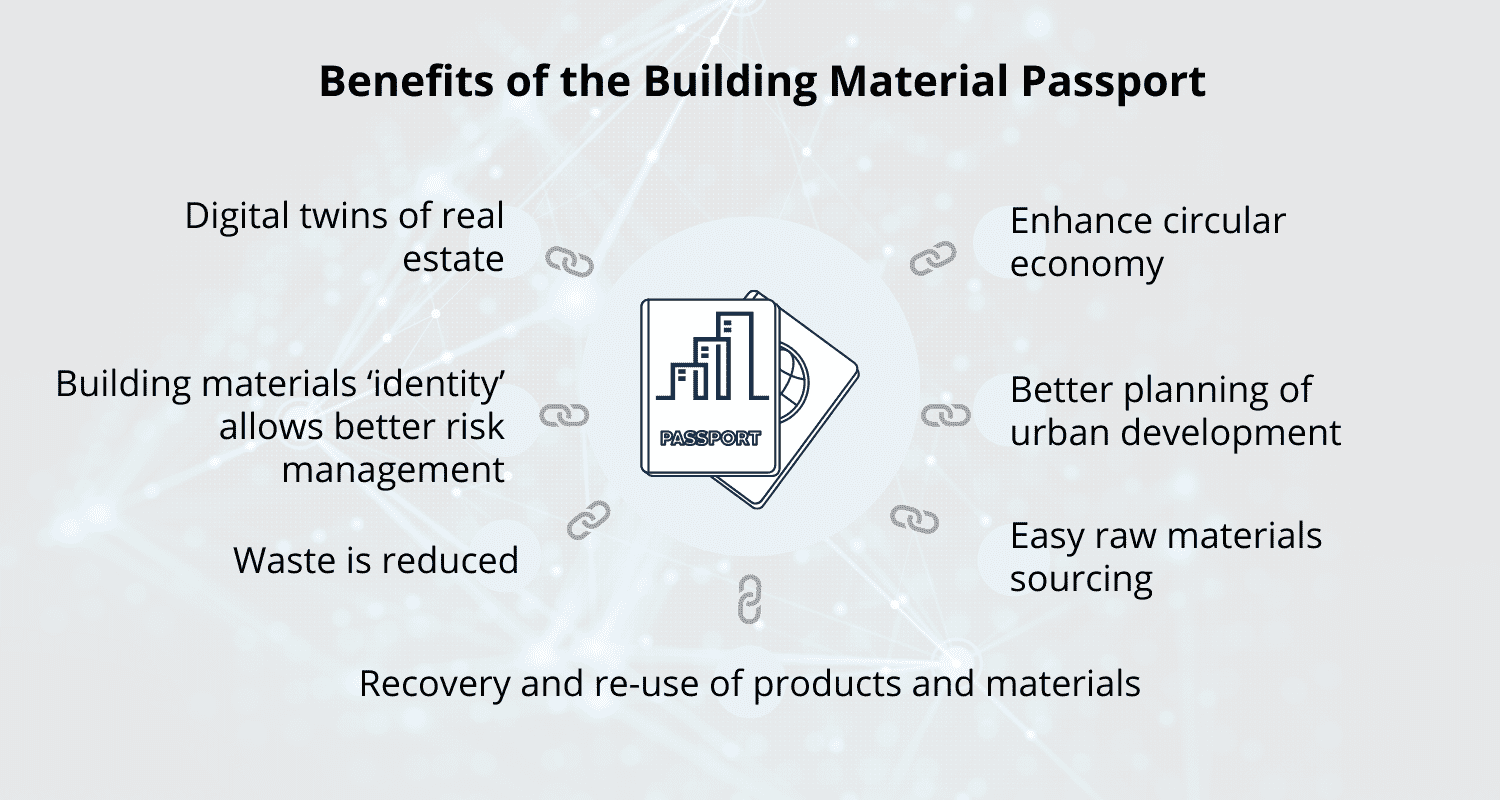 Foundation for International Blockchain and Real Estate Expertise
As an advocate for the use of blockchain technology in the built environment, FIBREE is developing an open-source identification systematic, that can add a unique object ID to any information source for a building.
The UOI can then enable seamless and machine-readable connections and integrations of different applications or data sources that hold information about a built structure on different levels of detail or at different stages of the buildings' lifecycle. By doing this, the UOI helps to turn many current so-called 'point solutions into 'network solutions that remove information-asymmetric in multi-stakeholder collaborations, and by doing this the added value of modern technologies like blockchain can be improved a lot.
ReCheck is one of the early stage contributors to develop this UOI-systematic, together with the Dutch Government, Kadaster, and Geonovum in the Netherlands. FIBREE is looking to set up pilots in different countries within its global network in order to enhance the know-how and internationally experience the value this UOI can add to existing data infrastructure in the built environment.
Block Materials
Blockchain technology provides us with several information characteristics that are quite useful in daily life. Since the information in a blockchain can not be changed (only added), this immutable information can serve as an important source of information on the ownership of the materials in a building. And when we can follow this ownership, it is also possible to organize long-term contracts, including all the liability aspects that are needed to organize the reuse of materials of a building.
Block Materials combines its knowledge of law and economics with the data about materials in buildings and provides the legal framework for different market transactions, carbon saving strategies, and other long-term contracts concerning circularity. All of this is part of the Digital Materials Database Cirdax that is used in the project.
ReCheck
For the purpose of the use case, ReCheck will implement an interface for anchoring and verification of material specifications data on the permissionless blockchain network. ReCheck's software components will ensure seamless registration of digital documents, certificates, and metadata about the circularity and sustainability aspects of the materials in an immutable environment.
Furthermore, the implementation will guarantee the long-term integrity and accessibility of the content secured on the public Ethereum blockchain. The digital evidence will be anchored in a privacy-preserving way, respecting GDPR requirements. No plain text will be visible to other participants of the selected blockchain network.