Dear readers, in this post we want to present you a script from our interview with Jo Bronckers from the Foundation for International Blockchain and Real Estate Expertise. He shared some insightful analysis on the state of real estate and how blockchain can help improve real estate processes.
Hi Jo and thank you for accepting to do the interview. So, could you please tell us a bit more about yourself and your work at FIBREE?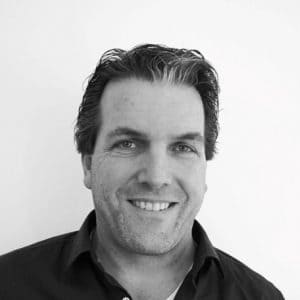 Yes. Well, I am from the Netherlands, living here in Noordwijk together with my wife and my daughter. My background is real estate. I have been working with real estate investors, asset management organisations and real estate banks for more than twenty years. In 2018, I decided to become self-employed and I started my own consultancy firm.
At the same time, together with seven other people, we started the Foundation for International Blockchain and Real Estate Expertise (FIBREE). We established FIBREE as a nonprofit organisation that aimed to connect local networks, best practices and expertise of professionals who work in real estate, blockchain, IT, legal, government and research. Then, we wanted to connect those local networks on a global scale to become a truly international, worldwide network.
Since 2018, we have been working hard to grow FIBREE towards what it is now. Today, our organisation has a global coverage with 110 regional chairs that represent FIBREE in approximately 70 regions in I think close to 40 different countries. We have presence in all continents – everywhere in the world where you see property and technology come together.
In 2019, we established an academic board to connect people with academic and research backgrounds. The initiative has been helping research institutes and students to find exchange programs and research output in the field of blockchain and real estate. We also started several theme-based global working groups.
Another milestone for us was when we created the FIBREE Industry Report that is to be published on a yearly basis. In 2019, after we have existed for one year, we issued the first edition of the FIBREE Industry Report and it has been released for the second time this summer. In this report, we provide insights from all our regional chairs, the different working groups and our Academic Board. Additionally, we give an overview of all existing products we see in the market related to blockchain and real estate.
And what is the current state of real estate? What are the biggest pains that professionals struggle?
I think that the real estate industry is the biggest and largest industry in the world, but maybe it also has the most fragmented industry chain. And a lot of the investments are big tickets, so it is about a lot of money and therefore organising trust plays an important role in many business processes. It is rather an old-fashioned industry. If you look at the level of digitisation, I think that we are not the front runners, we are more lagging behind.
Now that we see the Industry 4.0 revolution, where the most of the processes become more digitised, more flexible and customised in many industries, real estate is actually just stepping into this. If you speak with real estate professionals in general, for them, it is very difficult to understand the benefits and challenges of blockchain. It is difficult for many of them to understand the nature of blockchain technology. So a lot of education is still needed.
The difficulty for us as an organisation is to take the real estate sector by the hand and help them with discovering the digitisation of the real estate environment and show the future potential and become more open to adaptation of these new digital technologies, like blockchain.
By creating more interest on the real estate side to do some experiments with the technology, we are together gaining know-how regarding the benefits of blockchain, how it can be utilised and what is the value that can be created through technology. The technology is there, the challenge is more a social one to show and convince people what can be the benefits of collaborating in interoperable networks.
To answer your question, I think there is still a lot of work to be done in the real estate sector when it comes to digitisation and automation, but we are making steps as this is a trend that is not going to be turned around. It will only go further.
And where do you see blockchain can bring the most value for realtors, developers and real estate investors?
If you take into consideration what I said before, that the real estate sector is stepping into the era of full digitisation, then I think the real estate sector is not yet asking for blockchain solutions. However, in the real estate industry, they face challenges. There are many multi-stakeholder processes in real estate business and I think what many of them are looking for are digital solutions on which one can rely – solutions that can be trusted. IT developers can use different new technologies to create meaningful digital solutions and I believe blockchain is just – quite an important one – of those technologies, when creating better trustworthy data is aimed.
I think that with blockchain significant value can be created in a few possible ways. The first one is to create digital footprints (hashes) to certify that certain information is authentic at time. The second one is to create digital contracts, smart contracts. And then in the end, we will be able to evolve to more fully automatic processes.
To be honest, where blockchain makes sense today, is starting to create and implement digital stamps (hashes) and creating a proof that the information is authentic, so people involved in those multi-stakeholder processes can rely on the information they receive. And because of this happening at many different stakeholders, we also need to be able to create more interoperability and accessibility of information. In the end, this will result in less miscommunication, fewer mistakes and lower transaction costs. I think that is where we are now, because the real estate sector is actually still turning excel files and emails into more digitised data exchange environments.
As you mentioned FIBREE's working groups, can you shed some light on the UOI project as this is something that is currently on focus for you?
Yes, the model of FIBREE is that we work with local networks, and in 2019, when I started to actively work with our Dutch local network, I brought some people together from various backgrounds and organized a mini workshop. I asked them, "OK, if we are going to talk about blockchain and real estate, what could be of your interest? What can be put on the agenda that is meaningful for you?"
And the majority expressed that before starting to talk about blockchain, maybe we could start by talking about what digital transactions are going to look like and what information will be made digital and exchanged between what parties. How will processes be changed, what data structures are needed and how can data be stored in a kind of a building passport, so that all along in the chain, each stakeholder can always rely on having the right information available when needed.
And so, we started with this working group, and very soon we found out that this industry chain is stretched over a long period of time and has many disciplines involved in it. For example, you have the architect in the beginning who creates a lot of information, such as the drawings of a building; You have the municipality that needs to issue a building permit. And, you also have the owners and renters, maintenance and facility managers. At demolition, you have, again, the architect to look at what materials and how can those be reused.
You have multiple stakeholders with multiple information requests. And we saw that everybody is trying to keep great standards in their own part of the industry chain. This leads to many silo's and challenges for efficient exchanging and upkeep of all the information involved. In the present situation, a lot of information gets lost or gets outdated during the life cycle of a building. These insights helped us to define the scope of our UOI-working group: How can we create the kind of infrastructure that can be used by everybody to help identify the building or the level of detail in the building?
Once we looked at the problem, the working group came to a conclusion that we could create a Unique Building Identifier. We got in touch with the Dutch government, as they are responsible for the national register of addresses and buildings. In the same period they were looking how to improve it, to make it future-proof, to serve some new legislation where more granular information of buildings will be used for mandatory documentation of buildings.
The Government decided to join us and that is how we created the Netherlands Unique Object Identification project. Then in November 2019, there was a European INATBA conference in Malaga, where we presented the topic of unique identification to the European Commission and other stakeholders who also showed interest in the project.
The first phase of this project was completed in May, when we managed to make a theoretical design for a possible solution. As the government found it so promising, they decided to continue the project and now we are entering the second stage, where we are going to look how the UOI conceptual design fits in existing standardisation frameworks. We are going to conduct several pilots to demonstrate the technical feasibility of the concept – how it was designed until now.
So can you elaborate a bit more on those pilots? You are now actually participating at Odyssey in a challenge aiming to give buildings personality.
Well, during the first stage of our UOI development project, together with the Dutch Kadaster and the Ministry of Interior, we decided to take the challenge to the Odyssey. The reason why we did this is because we wanted to show that it can work and the hackathon brings us into the position where we can get in touch with forward-thinking blockchain developers.
We hoped that they can also give us important feedback on if what we design will really work and how it could work and be done differently or better; Feedback on what are the challenges in front of us. Working with these teams in the Odyssey hackathon is very important for us now that we are in the first development steps of this UOI as an infrastructure component, not alone for the Netherlands, but also for international implementation.
And then more specifically, maybe for ReCheck, the use case that the team of ReCheck is looking at is actually at the core of our UOI story, because ReCheck are trying to develop a UOI generator and search engine. So in the development of the UOI system, the ReCheck's pilot is crucial to demonstrate the technical feasibility of our UOI design. And to add on that, because UOI is designed to become an infrastructure component, on top of the UOI, new digital solutions can be developed that add significantly more value because via the UOI a larger market can be reached.
And how do you see the real estate industry changing in the near future?
If you look in phases, after the 'digitisation-wave of everything' that we saw the last decades, now there is the complexity that we have a lot of data, devices and software available, but mostly in so-called 'point solutions'. This results in growing complexity to create interoperability. Therefore we need many different API's and I think that is not the future.
I believe that the more viable option is if we have something like the UOI in place that enables 'network solutions' instead of those 'point solutions'. It will help identify and connect information about a building on the right level of detail from each user's perspective, and it will help to aggregate data to the overviews that one needs for supporting their processes.
It is in the nature of blockchain that more network data-landscapes can emerge with decentralized databases, which all can then function as 'single sources of truth' to all stakeholders. This is the data future that I believe in, because the amount of data will continue to increase exponentially. The need to organize such better interoperability is more important in the built environment against the background of climate adaptation and mitigation.
Just imagine that real estate is responsible for circa 50% of all raw material use in the world, and roughly 40% of all greenhouse gas emissions, or 20 to 30% of all traffic flows are related to construction or maintenance in buildings. And, it is no surprise that there will be a bigger need to continuously improve efficiency. Better data will be crucial for this.
Finally, what is the future of FIBREE? What are your goals for the next few years?
Well, FIBREE is a non-profit organisation and we want to help the world to discover and explore the possibilities of blockchain and real estate. We understand that there is still a long way between where the market is at present and where we hope it will be in, let's say, five years. We hope that by exchanging know-how and educating the market, FIBREE can contribute to the market development for all companies or initiatives that develop blockchain-based products for the real estate market.
We believe that blockchain and real estate is a very good fit. However, at FIBREE we also believe that blockchain alone is not the solution, rather it is an important means in the toolkit of the developer in a future-proof solution. I hope that after five to ten years less education will be necessary and there will be more showcasing of best practices, and that blockchain is a normal part of the digital landscape that is much less talked about when compared to today.
And I hope that FIBREE, then is seen as a thought leader who helped to discover this realm both for the real estate and for the blockchain world.
Thank you and best of luck to your future endeavours, Jo!