The real estate industry is challenged with a chronic lack of data. Authenticity is often in doubt due to the variety of uniform sources. And now, laws are being changed and adapted to include sustainability goals. Using blockchain in real estate can significantly improve some processes around property management.
Under the 2030 Agenda for Sustainable Development that was adopted in 2015, a few of the SDG goals apply directly to real estate – responsible production of building materials, and conscientious use of buildings. Out of the 17 SDG goals, 15 are affected by activities related to how our built environment is planned, designed, used, or recovered.
Real estate plays a major role in reaching our climate goals, as it involves many stakeholders from various sectors. Land-use patterns, construction processes, and materials source and production affect the rate of greenhouse gas emissions. If not managed properly, they can have a very negative impact on our environment and well-being. And so why do we need blockchain in real estate?
Cross-border Policy Efforts
A few cross-border initiatives have followed since the UN's 2030 Agenda was adopted in 2015. Many of these international efforts aim to strengthen and future-proof real estate investment. On a global scale, there is the Paris Agreement, which is one of the most significant climate projects.
At the One Planet Summit that was held in Paris in 2017, eight central banks established the Central Banks and Supervisors Network for Greening the Financial System (NGFS). The NGFS's purpose is to improve the global response to meet the targets set in the Paris Agreement. The Network strives to make the financial system resilient to risks and to direct capital to more green and low-carbon investments.
The Markets in Financial Instruments Directive (MiFID) has increased transparency across EU financial markets, it is considered a cornerstone regulation for investment companies. And now, a recent amendment to the Directive aims to make environmental, social, and governance (ESG) considerations an intrinsic part of the investment process.
The corporate world follows
During the last years, we can see a few examples of the corporate world trying to adopt ESG criteria in their investment processes.
The Sustainable Real Estate partnership which gathered organisations such as Credit Suisse AG, Siemens Schweiz and GRESB aims to achieve a boost in energy efficiency and reduction of CO2 emissions in 1000 Swiss properties. The goal of the 5-year programme is to reduce CO2 emissions by an average of at least 10% across all buildings. That is equivalent to about 13,000 tons of CO2.
Last year, JPMorgan Chase committed to source renewable energy for 100 percent of its power needs and become carbon neutral in its operations.
Furthermore, according to the consulting firm McKinsey & Company 57% of the executives and investment professionals they surveyed agreed that ESG programs create shareholder value. However, investment people also report that available data is insufficient for a clear-cut execution of sustainability strategies.
Benefits of Using Blockchain in Real Estate
Blockchain in real estate can help with product and process tracking and thus enhance the transparency in supply chains. If applied to real estate, the technology could help track how building materials are produced, used and recycled. It will be much easier to check how green a building really is by simply tracing building materials back to their origin.
Blockchain also allows for a single digital identity to access multiple data platforms while protecting data against breaches and falsification. Furthermore, using a blockchain-based ledger means no dependence on physical documents and registers.
In the real estate industry, a blockchain-based management system could be used to solve problems such as data inaccessibility, data insecurity and data fraud. Stakeholders can be assigned role-based access to real estate information and evidence of all data transactions will be securely kept on the blockchain.
Using blockchain in real estate means that we can track and measure the digital footprint of each building. Better data will lead to more conscientious and climate-friendly decisions. Additionally, for real estate developers and investors, there is a lack of data regarding how buildings are operated and maintained and reliable data about capital market conditions and sources of financing.
Why do you need blockchain in real estate?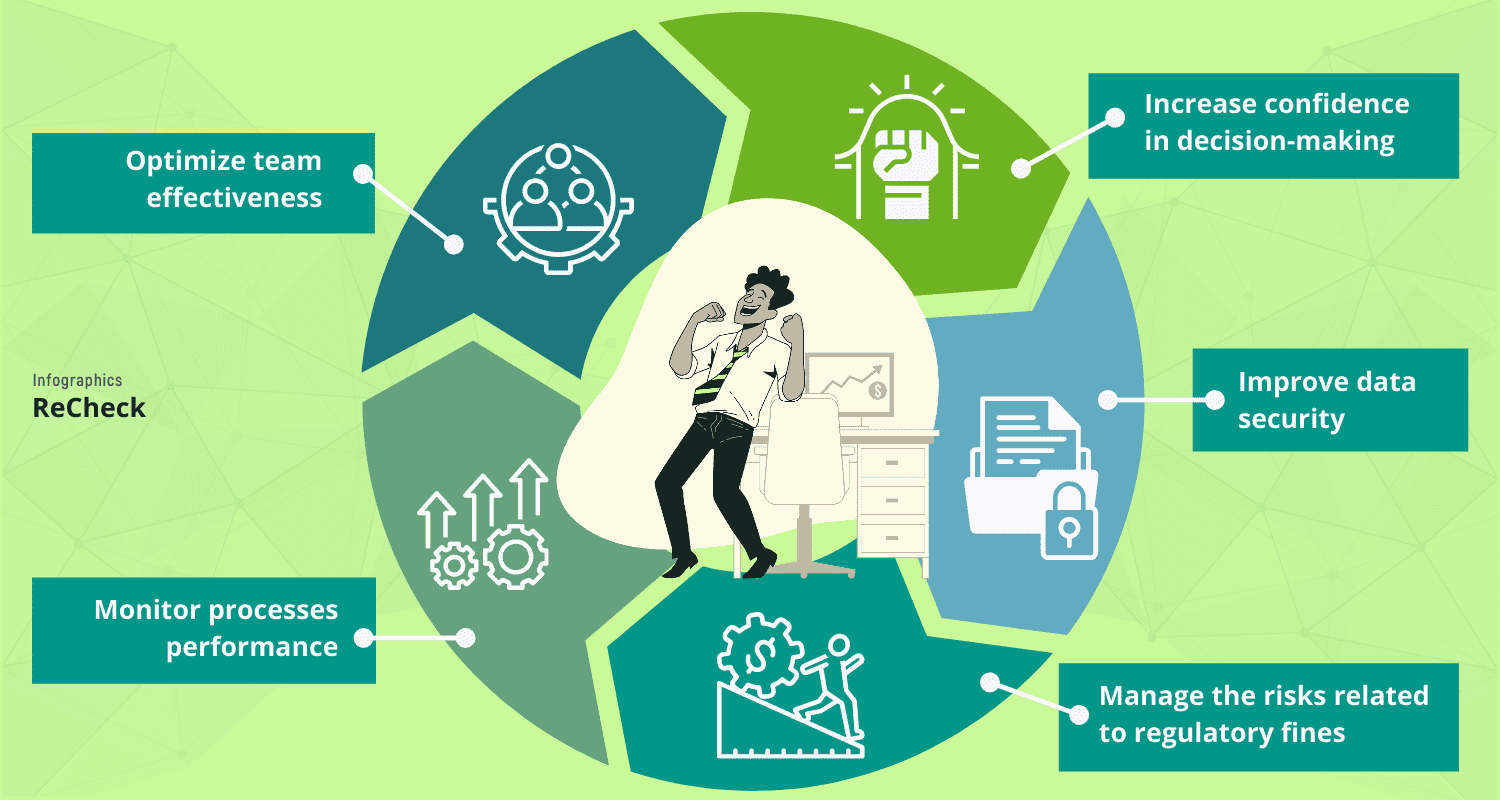 Deploying a blockchain-based data management system can be a win-win when you need to ensure that (1) data is securely stored and protected against fraud, (2) historical data is easily available for each property, and (3) data is accessed based on roles and permissions.
Using a trusted decentralised ledger to record data of all properties can potentially help investors in a few of ways:
Increase confidence in decision-making
Manage the risks related to regulatory fines
Improve data security
Optimize team effectiveness
Monitor process performance
Risk management and ESG reporting
Blockchain can be very useful to monitor ESG performance and overall investor green behaviour throughout the life cycle of a building. A blockchain-based data management system can help control how investors follow up with their sustainability commitments. It can also provide trusted data about any risks that might arise.
Mapping all potential sustainability risks can increase management's ability to prevent negative impacts and control the ecological footprint of the whole portfolio of real estate investments.
Still, most of the investment decisions are based on manual recordkeeping and years of industry experience and market knowledge. However, these alone won't be enough to suffice to deal with the new reality. Blockchain trusted data will become a cornerstone for investors to mitigate risks and make fast and informed decisions to strengthen sustainable investments.
Here are a few examples of how reliable data can improve decision making for the whole ecosystem:
Real estate developers can use historical property data to estimate costs and construction schedule risks and liabilities.
Loan underwriters can minimize sustainability risks by assessing borrowers' ESG activities.
Property managers can optimize building performance and reduce operational costs and environmental negative effects if they have the right dashboard.
Investors can find opportunities that truly fit their green investment strategies and goals.
Ultimately, blockchain can give each property a unique digital identity, and provide trusted historical data during the whole life cycle of a building. Real estate developers who work with the right kind of data will be better prepared to respond and adjust in times of disruption. A blockchain-based solution can equip investors with the right metrics so they stay competitive and be resilient to unexpected disruptions.