The Bulgarian Small and Medium Enterprises Promotion Agency (BSMEPA), together with the Ministry of Economy (the Commercial and Economic Office in Munich, Germany) and the Bulgarian Startup Association (BESCO) organize an online meeting to present the Bulgarian innovation and startup ecosystem to the largest innovation and entrepreneurship centre in Europe – UnternehmerTUM.
The event will take place on January 20, 2021, from 10:00 am and will be part of the initiatives of BSMEPA, held at the Export Hub Bulgaria.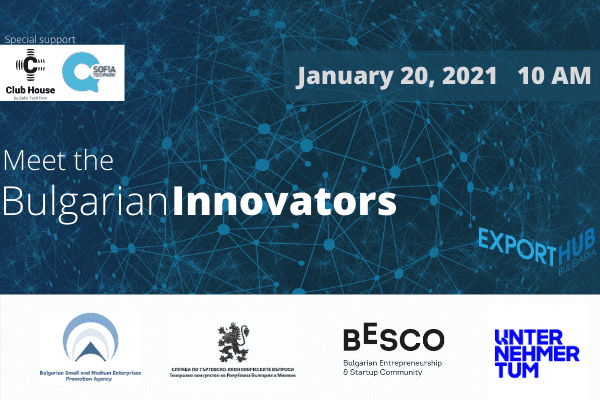 What is UnternehmerTUM?
The UnternehmerTUM business hub was founded in 2002 by German entrepreneur Suzanne Klaten. The centre is located in the capital of the state of Bavaria, Munich, and it supports the development of innovative startup companies.
With its activities and a team of experienced entrepreneurs, scientists, and investors, the centre provides support to help startup companies enter international markets. Through its network of business clients and partners, the hub provides funding opportunities for innovative projects. To encourage established companies, the team of experienced consultants offers access to the UnternehmerTUM ecosystem – it helps with the development of innovative strategies and the implementation of technological business ideas.
How does UnternehmerTUM help startups?
The UnternehmerTUM program is suitable for startup companies with innovative projects and products that are looking for funding and product development and also for companies who want to enter the German market. The centre helps businesses by connecting them with investors and high-level cooperation partners around the world, entrepreneurial talents, and corporations. All these activities are meant to contribute to expanding the innovation capacity and the corporate culture of the participants themselves.
The event is suitable for all innovative startup companies that are interested in collaborating with the largest innovation and business centre in Europe and they want to get more information about the possibilities for funding their projects and further developing their innovative products in various industries.
About ReCheck
ReCheck BV is a Dutch product-oriented startup that builds blockchain-based solutions in the field of information security, legal tech, and digital sovereignty. The company is one of the European pioneers in the development of practical decentralized applications with tangible value. We help developers and startups to incorporate distributed ledger technologies in their products by providing tools to record, verify, track and sign data on the blockchain. ReCheck's functionalities are easy to integrate and they improve security, privacy, and traceability in data exchange.