We are happy to announce that ReCheck will be taking an active role into building onto and further developing the EU-driven network of distributed nodes for cross-border public services. Together with four other partners, ReCheck will be part of the consortium that will set up nodes within the European Blockchain Services Infrastructure (EBSI) and deploy applications for the first use cases related to self-sovereign identity and notarization.
In 2018, all EU Member States together with Norway and Liechtenstein established the European Blockchain Partnership (EBP). Since then, they have been working hard towards building and developing the European Blockchain Services Infrastructure (EBSI).
EBSI is the first EU-wide blockchain infrastructure that has been created in an effort to make public services more reliable and easily accessible by citizens. Starting in 2020, the project is deploying a network of distributed blockchain nodes across Europe and is now being focused on four particular use cases.
EBSI use cases
Self-sovereign Identity (SSI): Implementing the Self-Sovereign Identity model in Europe allows for users to create and control their digital identity through a digital wallet across borders.
Diplomas: Citizens will be able to better manage their education credentials and leverage better verification costs and improved authenticity trust.
Notarisation: Blockchain can help create trusted digital audit trails and automate compliance checks, while validating data integrity.
Trusted Data Sharing: This use case focuses on how to securely share data, such as IOSS VAT identification amongst authorities in the European Union.
What is EBSI?
EBSI is designed as a market-friendly ecosystem that utilizes open standards and transparent governance. It is meant to facilitate administrative processes, while increasing efficiency and strengthening trust between the network peers. Improving traceability of transactions and ensuring that data is harmonized are other key benefits from using EBSI.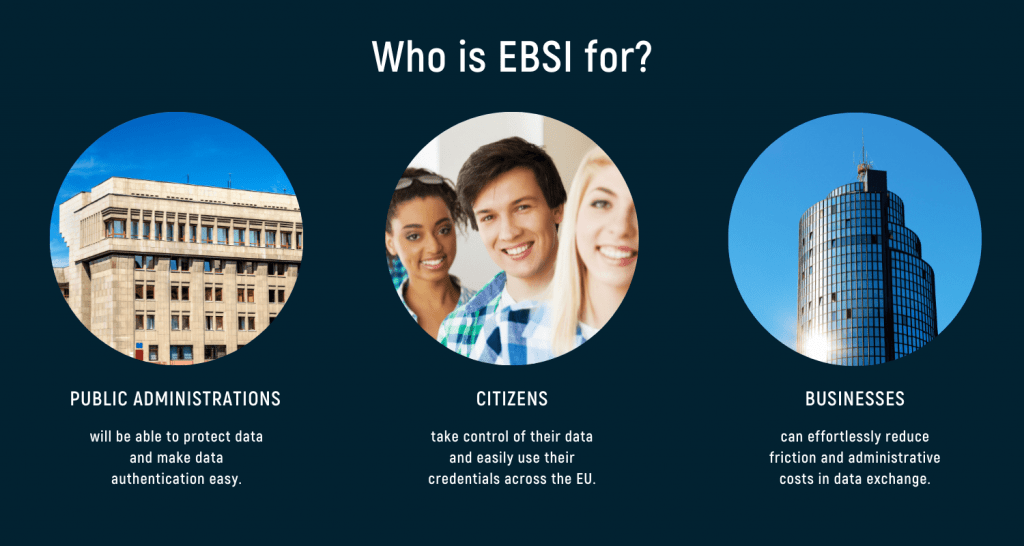 Citizens take control of their data, secure it and easily use their credentials across Europe.
Businesses can effortlessly interact with government agencies and reduce friction and administrative costs.
Public administrations will be able to protect data against fraud, increase trust in processing data and make data authentication easy.
What does EBSI mean for Bulgaria?
EBSI gives a great opportunity for the Bulgarian state administration to easily transform and completely digitize. Administration will be able to provide reliable and trustworthy electronic services, and digitise paper documents ant the processes related to managing it. ESBI will enable the delivery of cross-border public services based on open-source blockchain technology and thus enhance the way citizens, government and businesses exchange sensitive data.
The selected use cases
The project will cover infrastructure development, maintenance of the Bulgarian EBSI node and solution implementation for two particular use cases: the Self-Sovereign Identity and Notarisation.
SSI allows people to manage their data on a granular level also provide governments with validate statements from organisations, such as banks, utility companies, or telecom operators. Citizens will no longer have to physically visit places to collect credentials and verified statements (e.g. to a medical specialist or a municipality office). The solution ensures citizen-centric privacy, digital trust, and straightforward data sharing.(Source: EBSI Documentation)
The Notarisation use case supports the registration of documents and transactions using digital signatures and evidence in a GDPR-safe way. The notarisation service allows users to:
– Register digital documents, verify their authenticity and create historical trails.
– Record and link together digital evidence of files and their metadata.
– Create time-stamped audit trails for bi-directional exchange of digital footprints with third parties.

The Consortium
In this consortium, INDUSTRIA has the leading role and is responsible for project management, general governance of the proposed project, the dissemination, and exploitation of the project results, including management of the created intellectual property.
ReCheck will take active role into setting up, securing and maintaining the EBSI nodes, along with the deployment with master applications onto it. ReCheck will further work on the implementation of the Notarization use case, including the configuration and designing of the user interface.
LimeChain will be responsible for the development of the European Self-Sovereign Identity use case, deployment and integration with external services.
Additionally, the Edge will be responsible for the development and maintenance of a national Helpdesk and the design of the training programme.
Last but not least, Aeternity Ventures will take an active role in designing and executing the online training programme and the development of the needed technical resources.