Join the two-day conference for the trends in the development of blockchain technologies and their impact on the digital transformation of business
BlackSeaChain 2022 is a forum that connects the leading blockchain companies in Bulgaria in an organic ecosystem, creating opportunities for innovative business solutions and successful partnerships. The conference will facilitate synergies between the regional blockchain builders and the international communities. BlackSeaChain 2022 will be held live on September 1st and 2nd at the International Hotel Casino & Tower Suites in Golden Sands, Bulgaria.
Within two days, more than 30 presenters – top blockchain developers and representatives of leading blockchain companies will show their most successful projects and expertise, transforming the business into a transparent, decentralized, and efficient digital environment.
ReCheck is a partner of the conference and one of the keynote speakers at the event will be the company's CEO – Emiliyan Enev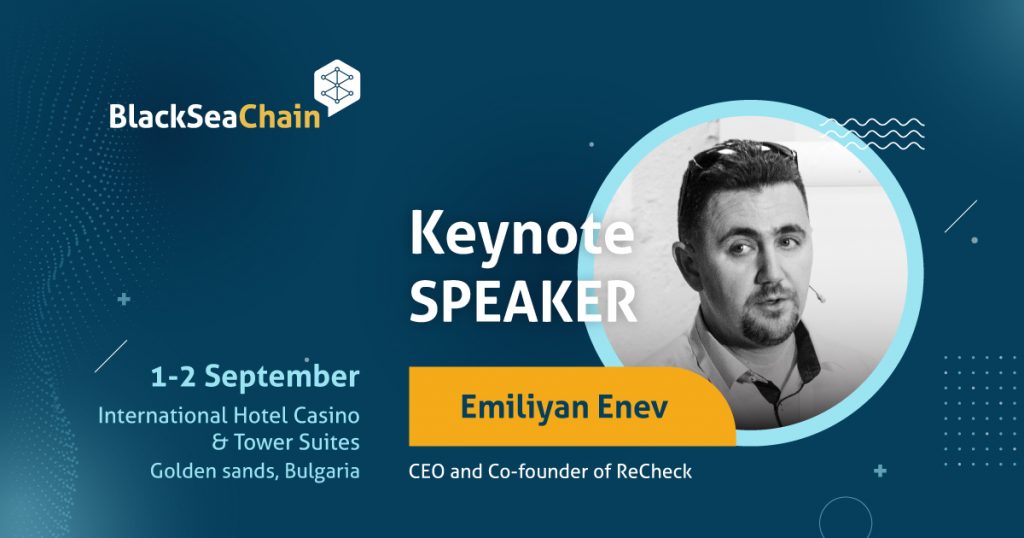 The presentations will be in Bulgarian and English on two parallel stages with a focus on:
current state and the future of the decentralized economy and finance;
the challenges facing the tax and legal framework giving rise to their legal existence;
introduction to Web 3.0;
creation and use of new crypto wallets;
the new craze in the world of cryptocurrencies – NFTs;
innovative solutions with smart contracts;
integrations between blockchain technologies, IoT and AI and other interesting topics.
The conference is suitable for blockchain programmers, software architects, business entrepreneurs, lawyers, accountants, crypto enthusiasts, investors, financiers and anyone interested in the use and development of blockchain technologies and their vast potential.
Guests will also be able to visit an expo area for blockchain software and hardware with many interesting demonstrations, an NFT gallery, a special networking lunch and a cocktail party at the end of the event.
BlackSeaChain 2022 is organized by Quanterall in partnership with LimeChain, Nexo, Ambire, INDUSTRIA Tech, Hack.bg, ReCheck, Bithope, Motion Software and weiChain.
Don't miss out on claiming an Early Bird ticket at preferential terms. The offer will be available until June 26th.
More information about the event can be found at: https://www.blackseachain.com